Kerala Ayurveda - Plan Your Trip to India

Drawing from ancient Indian healing wisdom Ayurveda or Ayurvedic medicine is an ancient system of health care that is native to the Indian subcontinent. Known as the 'mother of medicine' since Ayurvedic principles have influenced the development of Chinese, Arabic, Greek and Roman schools of medical thought, modern western medicine has adopted some Ayurvedic concepts, as well as more recently developed therapies such as aromatherapy, homeopathy and naturopathy. Ayurveda is a complete way of life. It is not only about treating sickness – it is based on preventing disease and enhancing health, longevity and vitality. Ayurveda aims to achieve harmony and balance. This is attained without drugs or invasive treatments. Diet, meditation, gentle exercise such as yoga, herbal medicines and physical therapies (such as massage) are the main methods employed.
Ayurveda in Kerala
Kerala's equable climate, natural abundance of forests (with a wealth of herbs and medicinal plants), and the cool monsoon season (June - November) are best suited for Ayurveda's curative and restorative packages. In fact, today, Kerala is the only state in India which practises this system of medicine with absolute dedication.
History of Ayurveda
Ayurveda evolved around 600 BC in India and was founded upon a medicinal approach of preventing body ailments, whilst curing them. Ayurveda today is a unique, indispensable branch of medicine - a complete naturalistic system that depends on the diagnosis of your body's humours - vata, pitta and kapha - to achieve the right balance. Ayurveda believes in the treatment of not just the affected part, but the individual as a whole, ensuring it is the natural way to a refreshed soul, free of toxic imbalances - a key to better health and resistance to disease.

Ayurveda (pronounced eye-yer-vay-duh) is the art of healthy living that enables you to create harmony in daily life by applying self- knowledge and self-care. The word, Ayurveda, is from the ancient Indian language, Sanskrit, and literally means "Knowledge of Life". Inherent in Ayurvedic principles is the concept that you are capable of taking charge of your own life and healing. Ayurveda may come from ancient texts, but these principles are just as applicable today in our society as they were when they were originally recorded in India. Ayurvedic living occurs when you recognize your basic nature and live according to this true self.
The Ayurvedic approach to life involves listening to and addressing the unique needs of your body, recognizing and balancing your mental and emotional states and deepening your connection with your spirit your essential self. You are the only one who can do this, because you are the only one who will truly benefit from your actions or suffer from your abuses.
It all begins with knowing yourself...
Ayurveda recognizes three main energies that combine to form all things in the universe. These are recognized as being fundamental to all life and are seen in the processes of growth, maintenance, and decay. Their actions are named anabolism, metabolism, and catabolism in the western sciences. Life, light, and love exemplify all these energies and are found in our environments at every moment on every level.

These energies combine in limitless ways to create the unique qualities of each individual. When you become aware of these qualities within yourself, you take the first steps toward creating a healthy life. Ayurveda assists you in identifying these energies in your body and shows you how to more fully experience their gifts and to gain freedom from their limitations. By working with the body's unique nature, you are able to create true health.

Ayurveda names these basic energies Vata, Pitta, and Kapha . In the Ayurvedic approach to life and health, we recognize how these energies are at work at each moment in our bodies and minds. When we recognize this, we can begin to create balance for ourselves by countering the destructive forces with positive actions.

How does this work ? With Ayurveda, we acknowledge that beneficial daily habits are different for each person, because each person is a unique combination of these three energies. Everybody has all three energies- though people experience each of them to a greater or lesser degree. Ayurveda can be a mirror that reflects our true nature and maps out the path for a return to the lives of vitality that we are meant to have.
Treatments in Ayurveda
"Ayurveda in combination with Yoga and Meditation, cleanses ones' mind and body of toxins and unwanted elements. The morning yoga session helps your body to imbibe the revitalising energy of the Sun, so essential for life on earth."

"The team of doctors and therapists and the treatment rooms assure constant care and attention to you."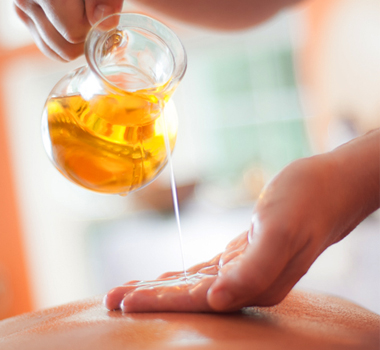 Abhyanga
A whole body massage with specific herbal oils to nourish and revitalize the body tissues (Dhatus) and to allow the toxins to be removed from the cells. Abhyanga has much deeper and more far reaching effects than an ordinary massage using mineral oils and lotions. Abhyanga achieves deepest healing effects by naturally harmonizing Body - Mind & Spirit. This massage is performed symmetrically by two therapists for one hour and is usually followed by a medicated steam bath (Sweda). It is one of the most rejuvenating treatments of Ayurveda. Abhyanga and steam bath 75 mins - 2 therapists

Benefits
Increases tissue strength, Improves blood circulation, Rejuvenates the whole body, Removes the Cellulite, Beautifies the skin, Delays aging, Induces sound sleep, Promotes vitality, Pacifies Vata imbalance, Reduces stress and Removes toxins.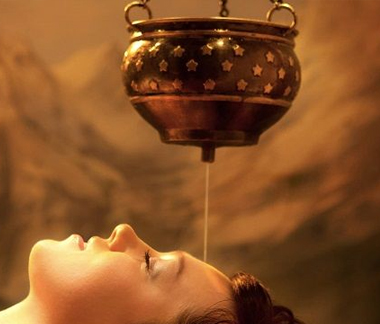 Shirodhara
A continuous stream of medicated warm oil/herbal decoctions/medicated milk/buttermilk is poured onto the forehead for 20 to 40 minutes. This procedure often induces a mental state similar to a trance, which creates profound relaxation of the mind and body. It is deeply relaxing and revitalizes the central nervous system. Shirodhara gives the best results when taken after an Abhyanga. Shirodhara - 45 mins - 2 therapists

Benefits
Anxiety, Depression, Epilepsy, Hypertension, Diabetic Neuropathy, Central Nervous System, Hemiplegia Paraplegia, Strengthens the sensory organs, Insomnia, Pre-mature graying of the hair & hair losso Mental retardation, Paralysis, Stress.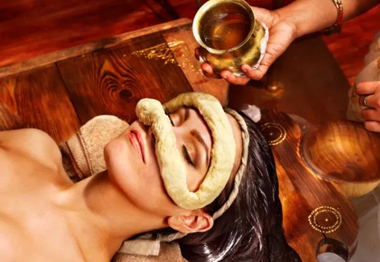 Netra Tarpana
A special treatment in which the eyes are bathed in pure medicated cow's ghee. This procedure takes 15 minutes. Netra Tarpana 30 min - 2 therapists

Benefits Relieves the strain due to constant glaring to the Computer & TV screen, Refractive errors of the eyes, Chronic Conjunctivitis Corneal Ulcer, Dry Eye Syndrome, Eye diseases due to aggravation of Vata and Pitta toxins, Glaucoma Helps in preventing early formation of Cataract, Improper co-ordination and loss of movement of the eye balls, Pain and burning sensation in the eyes.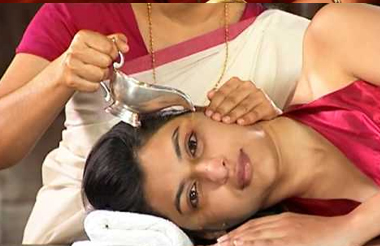 Netradhara
It is a special cleansing technique of pouring herbal decoctions in a continuous stream over the eyes. Netradhara - 20 mins - 2 therapists

Benefits
A soothing technique to relax strained eyes, Cooling and refreshing, Delays cataract formation Helps in treating chronic Conjunctivitis, Improves eye sight, Makes the eyes sparkle.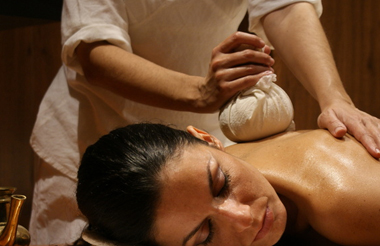 Sweda
By using special herbs specific to the doshas and ailments of a person, an herbal steam bath is administered which opens the pores and flushes and cleanses the system through the skin. Its effect is enhanced when taken after Abhyanga. Sweda - 20 mins - 1 therapist

Benefits Reduces pain in the body, Eliminates toxins, Promotes lightness, Reduces stiffness, Beautifies the skin, Removes the Cellulite.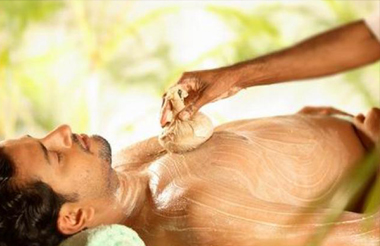 Navarakizhi (Shastika Sali Pinda Sweda)
A highly effective rejuvenation technique using a special type of rice that is cooked, tied into boluses and dipped into an herbal decoction and warm milk, then skillfully massaged simultaneously by four therapists all over the body for one hour after the Abhyanga. Navarakizhi(SSPS) 90 mins - 2 therapists

Benefits
Paralytic strokes, Anti-aging & rejuvenating, Strengthens tissues, Body ache, Emaciation, Debility Monoplegia, Osteo Arthritis, Rheumatoid Arthritis.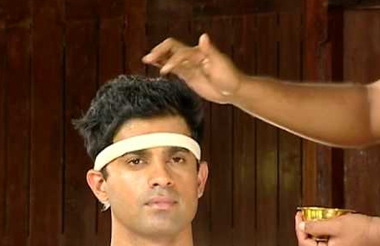 Talapodichil
An herbal paste is applied to the entire head for 45 minutes. Talapodichil 30 min 2 therapists

Benefits
Headache, Depression, Hyper active conditions, Burning sensation in the eyes, Insomnia, Skin disorders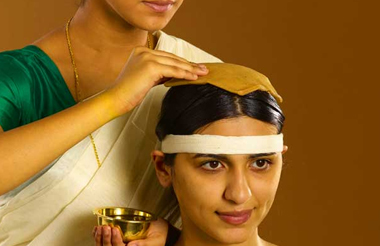 Shiropichu
Medicated oil is applied to the head for 45 minutes in a special manner. Shiropichu 15 min 2 therapists

Benefits
Facial palsy, Headache, Insomnia, Improves memory, Dermatitis of the scalp, Dandruff, Other neurological disorders Paralysis, Skin disorders such as Eczema.
---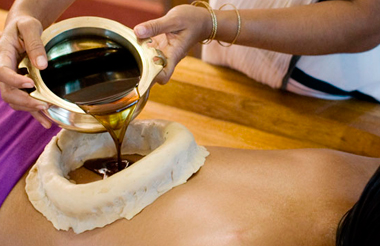 Chakra Basti
This Basti is applied to the umbilical region. It acts on the solar plexus and balances the digestive fire. Chakra basti 1 hr 1 therapist

Benefits
Inigestion, Constipation.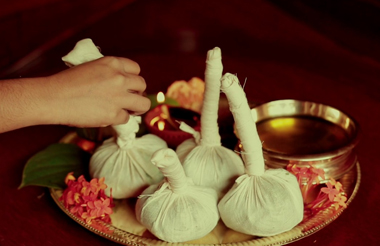 Patra Pinda Sweda (P.P.S)
A highly rejuvenating treatment in which fresh plants are fried with several other herbal ingredients and tied into boluses, dipped into warm medicated oil and simultaneously massaged by four therapists all over the body for one hour, it is applied after Abhyanga. PPS( patrapindasweda) 60 min 5 therapists

Benefits<br> Chronic back pain, Loss of function of a part or whole limb, Joint stiffness and swellings, Muscular pain, Anti-aging & rejuvenating Sciatica, Spondylosis, Sprains and cramps.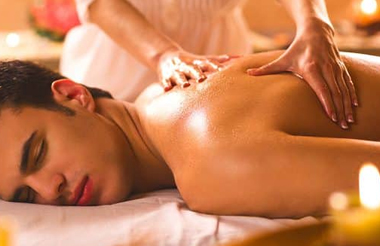 Sarvangadhara (Pizhichil) Kayaseka
Medicated oil/medicated milk is poured onto the body in continuous streams while being gently massaged by four therapists for one hour. It is extremely soothing and relaxing. It acts as a free radical scavenger, toning, strengthening and deeply rejuvenating the whole body. It is given after Abhyanga. Sarvangadhara(Pizhichil) 60 min 6 therapists